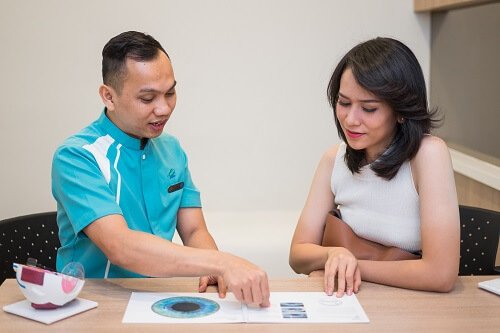 FAQs for FemtoLASIK
What is FemtoLASIK
FemtoLASIK is a form of LASIK, that can correct nearsightedness (myopia) and astigmatism – by way of deploying a laser on the cornea.
The LASIK methods in the past have involved a blade to create an opening on the corneal surface, but FemtoLASIK substitutes this for a femtosecond laser, and uses an excimer laser to correct the refractive condition itself.
This makes for a more precise procedure, one that outshines LASIK procedures of the past.
What is FemtoLASIK procedure like?
Stage 1: A femtosecond laser creates a corneal flap.
Stage 2: The corneal flap is opened.
Stage 3: The excimer laser is deployed on the exposed corneal surface.
Stage 4: The corneal flap is closed.
3. Does FemtoLASIK hurt?
No, FemtoLASIK won't hurt a bit. You will be topically anasthesized with eyedrops prior to the procedure. No needles are involved, nor is general anasthesia. You will be conscious for the entire duration of the procedure.
4. What tests are needed before undergoing FemtoLASIK surgery?
There are 7 pre-FemtoLASIK tests :
Subjective and objective refraction
Intraocular pressure
ATLAS / CRS Master (Corneal Mapping)
Production and quality of tears
PENTACAM (Corneal thickness)
Glucose levels
Physical examination of the eye
5. How long does FemtoLASIK procedure take?
FemtoLASIK is an all-in-one laser procedure that takes about 30 minutes.
6. FemtoLASIK can eliminate myopia & astigmatism?
The MEL-80 can correct refractive conditions up to a maximum of –15.00 diopters for nearsightedness/myopia, and –5.00 diopters for astigmatism.
7. What do I need to be mindful of after doing FemtoLASIK?
After everything's said and done, you need to use your eyes as soon as possible, to accelerate acclimatization to your new level of vision. Remember, however:
Not to rub your eyes
Not to get water on them
Not to put on make-up near them
8. How long do I need to rest for after FemtoLASIK?
There is no hard-and-fast prohibition against going back to your normal routine after the procedure.
However, be mindful of places that are dusty and/or smokey; don't rub your eyes, swim, or put on make up for two weeks.
9. What's so special about FemtoLASIK?
Very high level of precision.
Less risk of inflammation.
The healing process is faster.
Fewer side effects.
More comfortable for patients.
10. What are the pre-requisites to FemtoLASIK?
A pre-FemtoLASIK check is recommended to see if you're suited to the procedure. Here are some of the pre-requisites:
Patient must be 18 years of age or above.
A healthy and stable vision (no change in prescription in the past six months to one year).
Not pregnant or breastfeeding.
Not suffering from corneal diseases, significant retinal degeneration, severe dryness of the eye, or any such other conditions.
Not suffering from a systemic disease that affects vision, such as lupus, diabetes mellitus (with unchecked glucose levels), or any such other conditions.
Not have worn soft contacts for 2 weeks.
Not have worn hard contacts for 3 weeks.
11. FemtoLASIK side effects?
It's different for everyone, but FemtoLASIK patients usually come out of the procedure light-sensitive and feeling dry in the eyes. These effects are temporary and will subside over the course of a few months after FemtoLASIK.
12. How long is the recovery process after undergoing FemtoLASIK?
This is highly subjective and dependent on the condition of the patient's eyes, but in general:
The first two-three hours post-FemtoLASIK will be spent in a slightly foggy and uncomfortable state.
Within 24 hours, the patient will enjoy a much sharper vision, but will still feel a bit dry on the eyes and sensitive to light.
The first week will see clearer but not-quite-stable-yet vision.
The second week onwards, the patient's vision will be fully restored, and they will be rid of their dependency on glasses.
13. What if the myopia returns after FemtoLASIK?