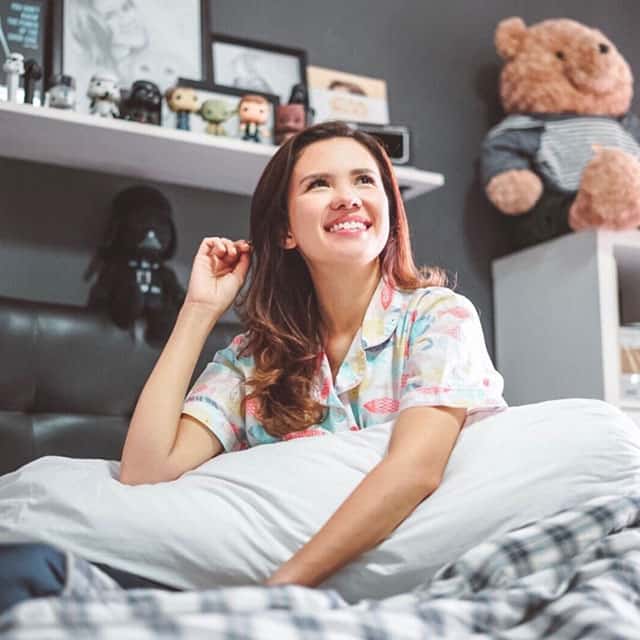 Michelle Joan
Actress, Model & Presenter
I've been wanting to get LASIK for some time now. I've been a regular user of contacts for years – and when I'm on the go with my daily routine or on a shoot, sometimes I have to bear with them till the dawn's early light. And trust me, that hurts heaps! And when I wear glasses, come shoot time, I get distracted by the reflection in my eyes.
After years of contacts, I decided that I wouldn't take it anymore. I wanted normal vision, no glasses, no contacts. So I decided to go get LASIK aja.
I had my doubts about getting LASIK in-country. I've heard the stories from my friends and acquaintances that most people would rather have the procedure done in Singapore. Clean, regulated Singapore. I did my research though, and it turns out, Ciputra SMG Eye Clinic has an ace up their sleeve: ReLEx SMILE! They're also in a partnership with the Singapore Medical Group, as well as being in the city center: fifth floor, Lotte Shopping Avenue.
I had my surgery on September 13th, 2018, with Dr. Yudi. First, I had my eyes examined to figure out if I was a good match for the procedure, and lawd be praised, it was a green light! Ope, almost forgot – being that I'm (soon to be was) someone who wears contacts, I had to keep them off for two weeks. Then I could move ahead with the surgery.
Now, theoretically speaking, one eye takes 7-10 minutes to operate on, so if I got both eyes done, it'd take somewhere about 15-20 minutes. But 5 minutes hadn't even passed when the doctor told me we were done!
Now, the first thing you're going to feel after the procedure is really happy Pure happy! Every time I wake up in the morning, to be precise because I need look for and put my glasses on no longer. I can see EVERYTHING.
Well, the most felt after finishing the operation is that when you wake up it was very nice! Because every time you wake up, it is always blurry and I have to look for my glasses immediately to be able to see clearly, but after LASIK, it is a whole new experience for me as I woke up and my vision is clear! I am now able to see it all, nothing is blurry. Even though I was so happy after the operation, I really had all the posters in my room where the writings were like the only thing I wanted to read and I am so happy.
Another great experience I had was while shooting. For example, the shooting is not always in the studio, sometimes there is a lot of outdoor dust and pollution. So, when I used contact lenses, my eyes were often glazed when I was hit by dust because my eyes were quite sensitive. But now I don't need to use soft lens anymore and don't have to worry anymore about the eye problems, it used to be red, red, or You have to take it off the contact lens first and then use it again.
"Don't be afraid! It turns out that Lasik is super-duper fast, super-duper safe, and also very pleasant results because it really can immediately see everything directly after surgery!"
For what I like from Ciputra SMG Eye Clinic, the service is really warm here! Everything that is here, the staff are really friendly, and professional, and besides that, Ciputra SMG Eye Clinic is not inferior to other international clinic standards.
The doctor is also experienced in his field. Every time I ask anything about my eyes, they are able to answer it very well and clear. Lastly, the technology they use is advanced and it is really the latest technology, that is ReLEx® SMILE.
Well for all of you who have been afraid or curious about wanting to know about LASIK, but maybe there are still many doubts, don't be afraid! It turns out that Lasik is super-duper fast, super-duper safe, and also very pleasant results because it really can immediately see everything directly after surgery! So no need to hesitate anymore, just directly to Ciputra SMG Eye Clinic to do LASIK surgery.
For the Ciputra SMG Eye Clinic's team, I want to say thank you so much for making me now able to see the world clearly with my eyes! Asik! In conclusion, Ciputra SMG Eye Clinic is the best! Thank you!